Amitov Ghosh's The Glass Palace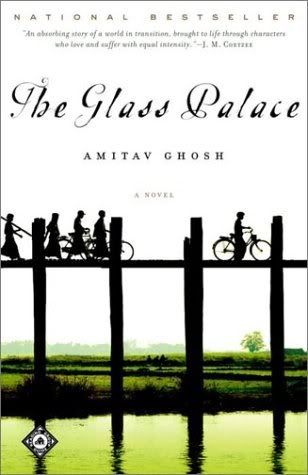 In the spirit of epic novels about the changing tides of family and country, Amitov Ghosh follows Rajkumar and Dolly through the vicissitudes of life in Southeast Asia during the early 20th century. Spanning many decades and the rise and fall of fortunes,
The Glass Palace
is a massive tale set against the backdrop of a changing world.
The novel opens with the destitute Rajkumar, dreaming of better things and working hand to mouth. In the distance, the booming cadence of British artillery peppers the air. As Revere once said, "the British are coming" and they will not fail to un-seat the Burmese King. As they approach, Rajkumar runs to the palace compound, an area he, and people like him, have hitherto been disallowed from entering, and watches the preparations of the royal family as they prepare to flee. Amongst Queen Supayalat's women is a beautiful young girl, Dolly, with whom Rajkumar will fall deeply in love. The royal family is soon sent to exile and Rajkumar becomes determined to make his fortune and win Dolly's love.
From this dramatic opening, Ghosh chronicles Rajkumar and Dolly's lives and the lives of their close friends. Through them we see the oppression of British colonial rule, the efforts of Indian independence movements to break free from Britain and claim their own government, and the terror of World War II. Ghosh's deft weaving of fiction and history presents a complete picture of life during these times. Though the dialogue is often stilted and the characters occasionally uni-dimensional, the overall experience of reading
The Glass Palace
is a pleasant one.
If you liked this, you might also like:
Marquez's
One Hundred Years of Solitude
Roy's
The God of Small Things
Mason's
The Piano Tuner
Jhabvala's
Heat and Dust